The New Roots CO Local Food Systems Summit, co-hosted by the Eagle RIver Valley Food Bank, was a resounding success this past Saturday, February 2nd. Participants included Samantha Miller, founder of All The Good Stuff farmers market delivery, Haley Baker,coordinator of  Walking Mountains Science Center's in-school garden program, Sowing Seeds, Meighen Lovelace of Mountain Harvest Consulting, and many other inspiring community members committed to supporting local food endeavors in Eagle County.
.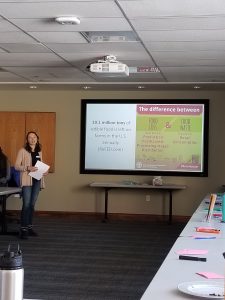 Participants spent some time learning about food insecurity issues many Eagle County residents face and engaged in breakout sessions to brainstorm solutions to local food producer and consumer challenges. We welcomed Ciara Low from Uproot Colorado and Hannah Semler of WholeCrops and co-founder of Farm Drop, as keynote speakers. Both women spoke about the benefits of gleaning for farms and gardens as well as the advantages of localizing the food system. In the afternoon, participants traveled to the Eagle River Valley Food Bank for a tour of the warehouse from their Sustainability in Operations Coordinator, Rita Hennigan. The event concluded with an informal networking hour with our sponsors at Bonfire Brewery.
An exciting outcome of the Summit were the ideas rooted in mutual support inspired in our participants, which New Roots CO plans to follow up on throughout the upcoming spring season. New Roots CO will also begin fundraising for projects that support gleaning efforts for local gardeners interested in participating in Produce for Pantries, a program that helps provide fresh produce to food banks. New Roots CO is also dedicated in supporting the efforts of community members who want to grow food on private land by engaging volunteers in boots-on-the-ground initiatives. We plan to work directly with Blue Sky Farms, a local homestead in Edwards, as well as a few other local residents who have expressed interest and a passion for growing food on their land.
Special thanks goes out to Our Community Foundation for collaborating with us and supporting our endeavors. We are excited to continue to grow New Roots CO's network of local food activists and engage our community in reimagining our local food system, toward one that fuels a resilient future for all!
Interested in getting involved? Our goal is to connect our community to home grown food related projects. We will be looking for volunteers to help support upcoming spring initiatives! Please send us an email to info@newrootsco.org.