The Community Market
Formerly: The Eagle River Valley Food Bank
A Project of Our Community Foundation
The work being done has outgrown its original name and the traditional model of a food bank. The Community Market has a focus on rescuing food and ensuring that residents have access to high quality local produce.
New Roots CO proudly supports The Community Market, collaborating to rescue food from grocery stores and other local sources, building and distributing food bags, and setting up free mobile markets throughout Eagle County. The mission of this project is to make healthy food easily accessible and available to everyone in our community.
Interested in learning more? Contact Kelli Duncan, at kelli@ourcommunityfoundation.org for information about the Food Bank or to volunteer.
The Community Market is located at 760 Lindbergh Dr Unit 7, Gypsum, CO 81637 

They are open every day, but it is subject to changes with all of the work they have. 
Please call: (970) 328-7900 to check availability.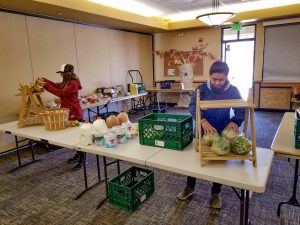 Mobile Market Schedule